History of NLA: Echolalia
The history of the terms 'echolalia' and 'gestalt language' are diametrically opposed, because the former has been used to denote pathology associated with adult brain damage, and has meant meaningless repeating of the words of someone else. Unfortunately, the term was tangentially applied to autistic children, and regardless of its applicability, it stuck.
That was the case for about a hundred years until researchers in the field of speech and language development determined that 'immediate echolalia,' or repeating of language right after the speaker, served communicative functions for autistic children.
Researchers in child language then were able to determine that 'delayed echolalia,' or repeating language that was heard at a later time, served even more communicative functions. The 1983 article by Barry Prizant, "Language Acquisition and Communicative Behavior in Autism: Toward an Understanding of the 'Whole' of It," formed the foundation of our understanding of gestalt language development in autism. And Prizant's recognition of four stages of gestalt language development provided the foundation for the clinical research of Marge Blanc, which was first reported in 2005, in the article "Finding the Words…To Tell the Whole Story," and then in 2012, in the book Natural Language Acquisition on the Autism Spectrum: The Journey from Echolalia to Self-Generated Language.
The insights from Blanc's NLA clinical research not only validated the work of Barry Prizant and colleagues from decades earlier, but elaborated on the stages originally reported by Barry Prizant. Stages 1 and 2 were described similarly to the 1983 article, Stage 3 was explained in much greater depth, and Stage 4 was described as beginning grammar. Stages 5 and 6 were added to acknowledge the later stages of grammar, recognized by Laura Lee in 1971 and 1973, in Developmental Sentence Analysis, also available in the archives. NLA also quantified the six NLA Stages — so they can be used in assessment, support planning, and reporting progress.

History of NLA: Linguistics
The second branch of history and research regarding NLA occurred in the field of linguistics, specifically the qualitative research of Ann Peters and colleagues who discovered the existence of two early language 'units' that young children derive from the sound stream of language around them. Recognizing that early 'units of meaning' can be as short as a single word, or much longer, Peters proposed and validated the first units of meaning all children first derive during language development. Her landmark book, "The Units of Language Acquisition," was published in 1983, and again in 2021, as a .pdf. It is also available in the library.
After 1983, qualitative research became scarce in both speech language pathology and linguistics, but the classic works of Barry Prizant and Ann Peters continue to inspire and inform us. Notably, Barry Prizant asked SLPs to continue the longitudinal research he had begun with autistic children, and to further describe and validate this process. Marge Blanc took up that challenge and spent 15 years following children in her clinic as they moved through the stages of natural language acquisition. Here's a quote from the preface of the republished Units of Language Acquisition Marge wrote as a tribute to the pioneering work of Ann Peters.
"To say that Ann Peters is one of my heroes is stating it mildly. Besides Temple Grandin and Barry Prizant, there is no one who has (unbeknownst to any of them) guided me more in my career as a Speech-Language Pathologist than Ann Peters. Well, that's not quite true: my clients have, but that's because I've learned virtually everything I (think I) know from watching them, listening to them, and seeing the world from their perspectives. They are my heroes too.
I started my journey with gestalt language processing in 1994, when I met my first autistic client, Dylan, who followed the stages of gestalt language acquisition just like Barry Prizant, Amy Wetherby, and colleagues told me he would! I was a Clinical Associate Professor (Clinical Instructor) at the University of Wisconsin-Madison at the time, and in my twenty years of clinical experience up till then, I had never met an autistic client, or (as far as I knew) a client who was a gestalt language processor. So, with Dylan, I had the article "Language Acquisition and Communicative Behavior in Autism: Toward an Understanding of the 'Whole' of It" as my guide, and everything just unfolded the way Barry Prizant wrote that it would.
I didn't really delve into the work of Ann Peters until 1997 when I started a clinic that would provide the physical support I had learned by then would help the language development process in the children I had grown to love! My clinical colleagues: K. Kjersten Sandin, Zadock Cropper, Megan Snow, Leslie Wellauer, Jessie Schmidt, Megan Pierce, Kristen Lee, Meghan Matthews Davidson, Kayen Cheung, and Olivia Wolkoff joined me in my quest, and, over the years, we all carried, 'The Units of Language Acquisition' around with us like the font of linguistic wisdom it is.
Little did I realize that the Ann Peters we revered wasn't a universal household name like she was in our little clinic (www.communicationdevelopmentcenter.com). Nor did I realize that qualitative research which is commonplace among linguists was outside the realm of most of the quantitative researchers in my field of Communicative Sciences and Disorders. Lillian Stiegler reminded me of that after we joined forces to give the first presentations about my newly-minted protocol, Natural Language Acquisition (NLA) after my book was published in 2012. But so much of our research today relies on groups with common diagnoses, and the days of the qualitative research that launched the field of child language acquisition seem but a distant memory. Whenever I had conversations about the potential of conducting research in gestalt language development, researchers reiterated what clinicians already knew: gestalt comments are hard to figure out. They are opaque to say the least, and too-often absolutely unintelligible. They sound like 'jargon' or 'gibberish,' and when children are finally old enough to make these long strings of sound a bit more intelligible, they sound like something out of a Disney movie. Then they get dismissed as so much 'movie talk.' Bottom line: the inclusion of the children who sound echolalic in quantitative research is just too hard.
So, thank goodness for the qualitative research of our discipline's past! The 'night-time soliloquies' and 'narratives from the crib' and all the hours and hours of recording, analyzing, cross-referencing and pure detective work of countless researchers is what educated us about how children acquire language! The wisdom of that era is what has guided Speech-Language Pathologists, educators, and parents ever since. But where are those words of wisdom today? What ever happened to the compendium of evidence of gestalt language development? The book is no longer in print, and only occasionally available via my Google search. I could still find individual chapters on Ann Peters' website, but I worried that very few people would do the search I did.
Why do I care? Well, it feels to me that we are a very important crossroads today: one we wish could have evolved during recent decades. But it didn't. It seems to me that we are just recovering from some very 'dark ages' for autistic individuals — ones in which autistic children have been excluded from language development. We have relegated autistic individuals to behavioral programs that teach them survival language. Why? It seems me it is because they were viewed as incapable of true, natural language development. Why have we felt that way? Sadly, it has often been because they did not do well when we fallaciously prompted them to use analytic strategies that were not appropriate for them. When they 'failed,' they were seen as unable to develop real self-generated language. So we gave up on them. IEP goals hung on — and on — and on.
But, finally autistic adults have found their collective voice, and have written eloquently about the trauma underestimation has cost them. Determined to not allow this travesty to affect another generation of autistic children, these true pioneers are empowering young parents to see their young children differently. Social media, for all its pitfalls, has helped NLA's promise — and Ann Peters' timeless wisdom — to reach thousands. Pioneers like Alexandria Zachos (www.meaningfulspeech.com), Amanda Blackwell (www.LUNA.com), and Jen Schonger (New Jersey Autism Center of Excellence) have extended NLA's profile beyond the Northern Speech Services courses and the Natural Language Acquisition Study Group. More and more parents and professionals now have the opportunity to learn the wisdom that Ann Peters compiled and promulgated."
Not only are Marge's findings available to you on this website, but the further stories and revelations from parents and professionals who are continuing the larger story into their lives are available to you here. Please check in frequently, as the Supports and International threads grow to include more and more of your stories!
To conclude, we thank you so much for contributing to our ongoing story, and this informal 'qualitative research'! Children who use predominately gestalt processes in language development struggle when they are misidentified as analytic processors. When their gestalt language development style is not recognized, their gestalts are ignored, and these children are delayed in their natural language development. They become more delayed as they get older, unless we acknowledge their gestalts and support them in natural language development. Thank you for being one of 'the helpers.'
History of NLA: Praxis and Self-Regulation
Marge has noted, "My own clinical practice was not only shaped by Ann Peters book, but based upon it. It was also based on the work of Jean Ayres, the pioneering Occupational Therapist who formulated the principles of Sensory Integration, which have been verified and re-verified by Occupational Therapists over time. So, my clinic, the place where NLA data was taken, was based on the principles of child development, that is natural child development both linguistically and physically."
"Working with SI-based OTs, I knew that breath support was foundational to children being able to express their first, long, often-unintelligible gestalts. Recognizing that intonation supports both more finely-tuned speech articulation and the production of long gestalts, the clinic set-up promoted whole body movement: resistance movement against gravity such as climbing crawling; vestibular movement supported by lycra, and gentle movement during seated play on a 12-foot trampoline set into a dedicated room environment. The clinic was set up with OT and PT recommendations, but also to be safe when children are supported by multiple caring adults. The premise was ultimately not having to say "no" to any child's idea of play or fun. Labor-intensive, yes; easy-to-replicate, no; successful, yes." [Photos can be found in the Library, and a mini-version of the clinic can be achieved through the recommendations in the article, "Bringing it Home."]
"Assessments were open-minded and open-ended, without preconceived ideas about where a child 'should' be operating. Having forgone any association with applied behavioral analysis, and recognizing the fallacy of techniques that assume an autistic child is a deficient analytic processor, I began with each child at the level of authentic relationship, physical regulation, and play."
History of NLA: Clinical Research
"Over the years, from 1997 to 2010 I continued to collect data on the autistic children I got to know, and that longitudinal material was added to what had already been collected when I was at the University. I had 15 years of language samples that verified again and again the principles that were discovered by Prizant et al, because I needed to have enough longitudinal data to verify the transition between stages, and the progress at each stage. That's what Prizant had asked for. And even though we never corresponded, I always considered him my mentor. But without his collaboration, or even commentary, I really had no champions…except my clinical colleagues and families."
"So together we created the book! Loved by everyone associated with the clinic, it was otherwise ignored and questioned, it had no publisher or distributor. Northern Speech Services decided to adopt it but there were still deep questions about its value. It took a long-overdue conversation with Barry Prizant to back it up…which eventually lead to a priceless endorsement of the book. It was that endorsement, quoted here, that brought together the loose ends of the old research and my research."
"Natural Language Acquisition on the Autism Spectrum: The Journey from Echolalia to Self-Generated Language is a wonderful resource that provides the most comprehensive consideration of echolalia and language characteristics of persons with autism to date."
"In this seminal work, Marge Blanc, an experienced clinician and clinical researcher, brings us back to a crucial understanding of language characteristics and language acquisition in ASD based on her deep understanding of language development from a social-pragmatic, child-centered perspective. Unfortunately, too many educators and therapists hold on to outdated and disproven perceptions of echolalia and gestalt language and attempt to 'treat' echolalia with a lack of knowledge of the historical context and research basis of our understanding of language development in ASD."
"By looking at echolalia only through a behavioral lens of pathology rather than through a developmental perspective based on research on autism and typical development, such practices may actually be hindering functional language development. It is hoped that this important work will help educators, therapists and parents move to more contemporary understandings and practices."
"This book is a 'must-read' for all who care about supporting social communication for persons with ASD based on research and sound clinical practice."
Barry M. Prizant, Ph.D., CCC-SLP
Adjunct Professor
Brown University
Director, Childhood Communication Services
Cranston, RI
"Finally! Soon, Barry and I took the material to the American Speech-Language-Hearing Association Convention, and a few key people were in that audience, namely Dr. Lillian Stiegler whose endorsement you will see here. (coming soon)"
"The tentative, early days that NLA experienced were amply rewarded when visitors began coming to our clinic's website that housed articles and clinic stories — and especially once the NLA Study Group on Facebook was launched. The egalitarian platform of social media, for all its potential hazards, brought NLA to parents. What SLPs might not have gathered about NLA, parents did! Just as Kristen Lee commented in her review of the book "I find parents to be so in touch with their kids that I give them the theory, and they provide me with examples!" Parent stories abound, and it has become clear that some parents always treated their children as GLPs! Years later they remarked how happy they were that the style of language development has a name!"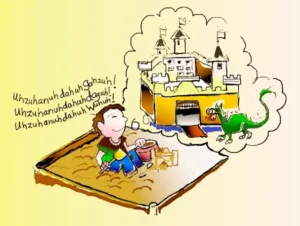 We hope that the parents who are visiting this site will find this process intuitive also, and something that perhaps you have witnessed in your own child. If you have not been dissuaded by professionals who still have never heard of gestalt language processing, you will find ample material here to support you as you support your child. You may or may not find an SLP who knows this material as well as you, but our list of NLA Providers is growing all the time. The NLA Providers listed in the registry on this website may or may not have taken courses through Northern Speech Services, Meaningful Speech, LUNA, or one of the other avenues now available in the UK, Europe, or Canada. They may or may not have worked with children who have advanced all the way from Stage 1 to Stage 6, but they are competent child-led SLPs, educated in NLA, and confident to call themselves NLA providers.
Together, we all can continue our learning, check in here for continuing support, and create a bright future for the children we are collectively supporting. In this Natural Language Acquisition process, sometimes the only support a child needs is the partnership with someone – you – who understands this process. Perhaps they do need more supports, but many children do not. You'll find someone like your child among the stories in our Support section, which will grow weekly as we transfer material from the Natural Language Acquisition Study Group on Facebook to these growing pages.
One final note is that the courses that are linked at the bottom of this page, were intended for professional Speech-Language Pathologists. But you are more than welcome to take those courses. They and the NLA book are the only items on this website that cost money, so if you choose to take advantage of all the free materials, we promise we will add to these pages with as much information and support as we can to make your journey a successful – and fun – one.