Supports for Multi-Modal Communicators
Augmentative and alternative communication (AAC) displays and devices can be a life-line for individuals who are non-speaking, unreliably speaking, and/or developing language when aided language input is helpful. AAC is not one-size-fits-all, but before we explore the possibilities, let's define AAC at a more general level.
AAC includes all modalities other than speech. AAC can 'augment' speech, or be an alternative to speech. Language and language development happen in our heads, and ways to express language are myriad, and each of them can be considered 'augumentative or alternative' communication and are no less legitimate than speech. Text-based communication, symbol-based systems, American Sign Language, other sign languages, gestures, drawing, accessing messages selected from other media such as movies and YouTube. All of these modalities can supplement speech, or be used instead of speech. They all qualify belong under the larger umbrella of AAC.
We typically think of AAC as symbol or word displays or dedicated devices, however 'low tech' core-word boards or other displays that can be used in places and activities, including board that are laminated and can go in a pool, or mounted on the wall, and even a giant one that we have seen used at a playground!
The article here introduces the notion of the umbrella term AAC — and then this post will continue with a section on 'high tech' AAC, including apps and dedicated devices to address the 'complex needs' of many communicators.
The use of a robust device requires some motor skill and motor planning, and trials of various devices are often needed in order to find the right device for a particular communicator.
But the most important requirement for the success of any AAC is a communication partner who is dedicated also — dedicated to using the device themselves, in everyday situations with the child! This is the model we need for the AAC communicator, to show that it truly is valued as real communication!
Robust devices often have the capability of 'voice output,' which can be one of several digital voices, or, with many devices, recorded voice. Sometimes the 'buy-in' for a child is the use of a voice that resonates with them, for example a family member's voice. Or the voice of a favorite media character.
Here's the caveat about AAC devices, however. They are set up for analytic language processors (ALPs), meaning they are devised for single word access, and word + word phrase-building. And they often fail to resonate with gestalt language processors at Stages 1 and 2.  So to ensure that a GLP will find a device useful, gestalt language is added to a 'robust' single word system so that GLPs can communicate at Stages 1 and 2, but also so that single words will be available when they progress to Stage 3. The webinar linked here was put together by two SLPs, one an expert in gestalt language processing, the other an expert in AAC assessment. 
Recommendations from that webinar include:
Add gestalts from the child's environment that the child will find appreciate and find important
Try some new gestalts if they seem to resonate with the child
Include video clips if they are the most resonant for a child
Include audio clips when they are resonant
Record your own voice if this makes the device work for your child
Invent your own AAC. Maybe a 'visual scene display' will resonate most with your child. Use scenes from the child's life, and add key phrases around the perimeter.
Use the device creatively, as it can add language input to support a child's language development, e.g. moving from Stage 1 to Stage 2, and Stage 2 to Stage 3.


We hope you enjoy the AAC and GLP webinar and handout! Please consider joining the AAC + GLP Group on Facebook for lots for information.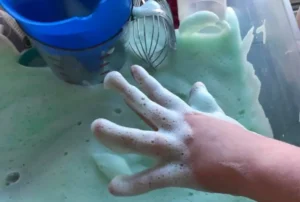 M. Blanc: Thank you N of 1, Jennifer Cronk! You also are an N of 1, as you bravely forged ahead without a body of evidence to guide you! Kate Shapiro Flaxman paid tribute to you yesterday when she was quoted on the podcast, Talking with Tech, that adding favorite gestalts to the AAC systems of multi-modal communicators has been the game-changer for GLPs. She said she and every AAC specialist she has talked to, has seen gestalt-customization to exponentially-increase engagement and communication among these communicators. As she said, the N of 1 method of customizing AAC *individually* is what makes *all* of those systems work! I hope this is just the beginning of a beautiful collaboration among Jenn, Shubha Bala, and other leaders! [p.s. the podcast will air at the end of November] N of 1: NLA (Stages 1-2), AAC (featuring "Speak for Yourself" app), and Multimodal Communication with a Guest 'n of 1': "The Magic Formula?" The title
Read More »